Madagascar, often referred to as the "island of spices", is a country rich in biodiversity. It also boasts a wide variety of quality agricultural products, including tea and coffee. A visit to these plantations to discover the cultivation, harvesting and production processes reveals all their secrets. You'll explore the specific features of these plantations, the regions involved, and the essential stages of a visit.
Pic by : Mon road Trip Culinaire
Adventures in the heart of Madagascar's tea plantations :
Madagascar's only tea plantation, Sahambavy, is located around 20 kilometers from Fianarantsoa on the RN7. Tea is grown over an area of 500 hectares, creating an exceptionally verdant landscape.
The route begins on the famous RN7, heading south from Tananarive. A journey of almost 400 kilometers takes you to this hilltop of green valleys.
One of the must-do experiences at Sahambavy is tea tasting. You'll savor a variety of teas, from black to green, including teas flavored with local spices. The peaceful atmosphere of the plantation and the scent of freshly brewed tea make for a memorable tasting experience.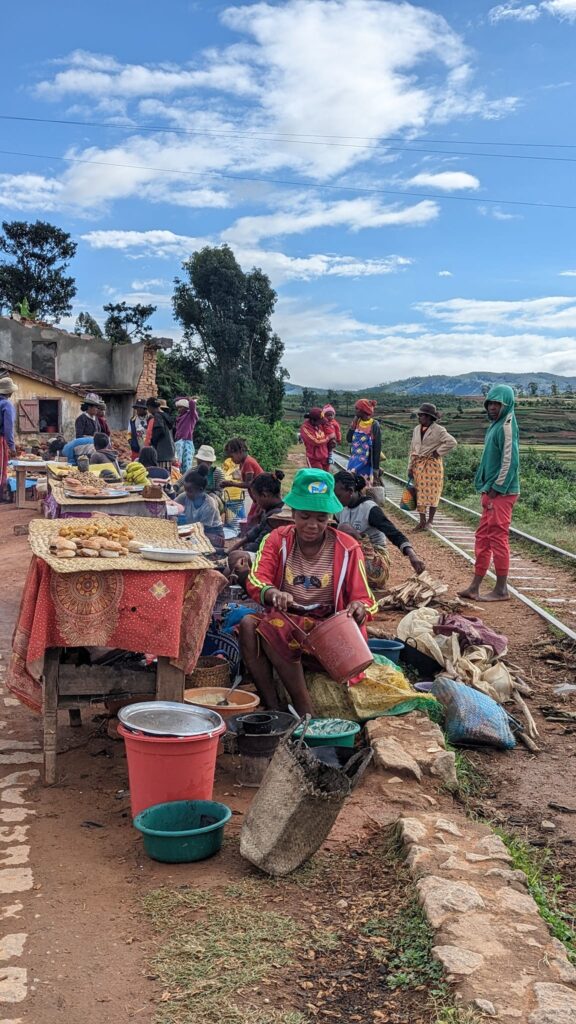 Pic by : Mon road Trip Culinaire
Sahambavy offers guided tours to the heart of the tea production process. You can watch the tea pickers in action, discovering the drying stages. Next, you'll marvel at the rolling of the leaves, and learn about the varieties of tea grown on site. The production process is a lengthy one:
Tea leaves are plucked by hand.
The leaves are spread out on large horizontal driers and ventilated from above and below.
A thick paste is formed after mechanical crushing of the leaves.
This paste is oxidized on a conveyor belt, to accentuate its distinctive aroma.
Being a black tea, Sahambavy tea is roasted in an oven at 120°C for around fifteen minutes.
Tea cleaning removes residues.
Defibered tea is packed in large bags for export.
Pic by : Mon road Trip Culinaire
From Earth to Cup, unlock the secrets of Madagascar's coffee plantations
Coffee plays a key role on the island. It is both a resource and an integral part of local culture. From family production to the tasting experience for tourists, Madagascar's relationship with coffee is worth exploring.
Malagasy coffee, known for its sweet, fruity taste, is mainly grown in the regions of Antalaha, Sambava,Fenerive ,Brickaville, Vatomandry,Vatovavy fitovinany. These parts of Madagascar offer ideal climatic and geographical conditions for growing coffee.
Two species are present: Arabica and Robusta. Arabica production is low due to its adaptability to the climate. However, the number of wild varieties in Madagascar makes it world-renowned.
During your visit, you will observe traditional cultivation methods and production stages, including :
Hand picking
Drying
Crushing
Oxidation
Defibration and packaging
At the end of your visit, you'll take part in freshly roasted coffee tastings.